Are princesses a problem?
More than ever, I hear my friends saying in hushed tones, "We're trying to avoid the whole princess thing." And while I'm all for flipping the narrative of the helpless maiden awaiting rescue, it's hard for me to let go of my affection for the Disney heroines of the '90s. As someone who went on her honeymoon to Disneyland (ugh, yes, I know) and was a card-carrying annual season pass holder until the military dragged us away, I haven't fully relinquished my love of Disney princesses.
These days, my two-year-old daughter exists in a uniform of Disney princess nightgowns.
She rotates through Elsa, Anna, Belle, and Ariel, complaining if they're dirty or if I demand that she puts on real clothes for preschool. Her only approved hairstyle is "Elsa braids" (which, confusingly, are two pigtail braids like Anna's hair in the first Frozen movie). She goes to sleep at night with a small army of princess dolls: child-aged Elsa and Anna and their parents, a Belle Barbie, and a large plastic Elsa that sings "Into the Unknown" and lights up.
I have always been the stereotypical "girly girl."
My favorite color is pink. My mom used to roll her eyes at my refusal to wear anything other than dresses as a kindergartener, and guess what? I still almost exclusively wear dresses and skirts (so much more comfortable than pants!). The Little Mermaid was undoubtedly an integral part of my neural wiring as an infant. I went through plenty of heartbreak as a young adult waiting for my Disneyfied Prince Charming to appear.
When the ultrasound technician typed out "MAMA'S GIRL" on the black screen next to my baby's black and white profile, I was thrilled.
I have two amazing, sensitive, hilarious boys that I have occasionally forced to watch Tangled with me. I am not rigid about gender roles–my boys had baby dolls and kitchen toys before I ever was pregnant with my daughter, and I joked with my husband that our little girl would probably wind up being the wildest of the three of them. Still, I stocked up on satin hair bows and impossibly tiny floral pajamas. The drawer I cleaned out in my dresser for the baby was undeniably awash in pink.
As my daughter grows older and begins to assert her own preferences, I try not to pigeonhole her. She has wound up being more rough-and-tumble than her brothers, proven by a broken leg at 18 months, and assorted other scrapes and bruises. She loves a monster truck and carries around a toy T-Rex that is nearly her height.
But this girlfriend also loves her some accessories.
I noticed it the first time when she began carrying a plastic grocery bag around the house like a purse. I quickly replaced it with something safer and cuter, beginning what I can only imagine is a lifelong love affair with handbags. I caught her with my makeup brushes and eyeliner pencils, "doing her makeups." She has mastered the art of dressing herself a full year before her brothers attempted the chore, eager to perform necessary wardrobe changes without any dependence on me. Laundry day is even more of a chore as she upends my piles of folded clothes, eager to be reunited with the aforementioned Disney princess nightgowns.
Recently, on days when I've stayed up too late and her brothers are in school, thanks to the advent of Disney+, I've treated us to an occasional daytime Disney movie. After seeing The Little Mermaid for the first time, my daughter was entranced, walking around the playground singing "Part of Your World" and telling everyone she saw, "I Ariel. I princess." As we pushed our kids on the swing, a friend commented to me, "Do you feel like the movie holds up in 2020?"
Giving up your voice to catch a man? Giving up everything in your life, in fact, to be with a man you've only glimpsed from a distance? Not really.
Beauty and the Beast's trope of a pure, goodhearted woman transforming a beast into a man with angelic golden locks and glowing skin? Also somewhat problematic.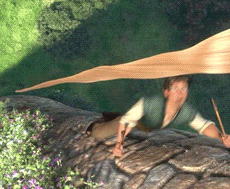 The more recent movies are, at least, slightly more empowering–in Tangled, Rapunzel and Flynn Rider make up more of a partnership, and in Frozen, the boy-crazy sister learns that "true love" at first sight isn't wise while the other sister never falls in love at all.
But no, by and large, many of the princess movies don't hold up, despite the beautiful music, the fantasy of finding a perfect soul mate in one glance, and the years of nostalgia. Does that mean we have to boycott these films and stories entirely?
But so far, I haven't chosen to cut them out.
Instead, I announce loudly and obnoxiously, "Remember, honey, never give up who you are to make a man happy!" when Ursula demands Ariel's voice. My husband and boys roll their eyes, while my daughter never removes her rapt gaze from the screen.
And after the movie, as I prepare dinner and my husband rough houses with the kids, I hear my daughter declare, "I princess!" Then, with a feral scream, she pulls out a foam sword and leaps on my husband.
I don't think anyone will be persuading this warrior princess to give up her voice any time soon. Not even a Disney princess or two.