I am writing this post as I watch the snow lightly fall on my back porch. That might sound splendid to some, but this winter has been one of the colder ones in my recent memory, and I am not a fan. It's lovely to look outside once a winter and see snow, but shoveling and having your kids be on an extended winter break is not my idea of a great winter day.
What I do love about the colder months is the chance to have some hearty soups enter our regular mealtime lineup.
Although my children aren't into soups or chilis at the moment, my husband and I enjoy them for a cozy dinner. Plus, without the kids partaking, we always have leftovers for lunch!
What makes these soup selections even better? They have minimal effort involved.
So if you are interested in branching out and warming your belly with a bowl, I have some suggestions for you:
This is one of my go-to's when I am dining out, but making it at home is pretty easy. You can use frozen or fresh broccoli, but definitely follow the recipe and use Velveeta Light; it adds the creaminess this soup craves without the actual cream and makes for a quick weeknight dinner. If you're steering clear of processed foods, real cheese can be substituted. If you want to add meat or additional seasonings, be sure to read the comments because people have made some wonderful suggestions.
My whole family will eat stuffed peppers, so I thought I'd take a suggestion from my Pinterest feed and try stuffed pepper soup. My kids weren't fans, but my husband and I loved the deconstructed peppers and filling rice combination. I do recommend adding some salt and possibly some heat with red pepper flakes if you're so inclined. This is a good one to have on hand when you have extra peppers from your garden, too.
If you're like me, you probably have frozen chicken breasts in your freezer and some cans of beans and corn in the pantry. This super easy recipe requires very little beyond your staples to create a warm, hearty dinner that cooks all day so you don't have to. Serve it up with some yummy cornbread or tortilla chips for a filling meal.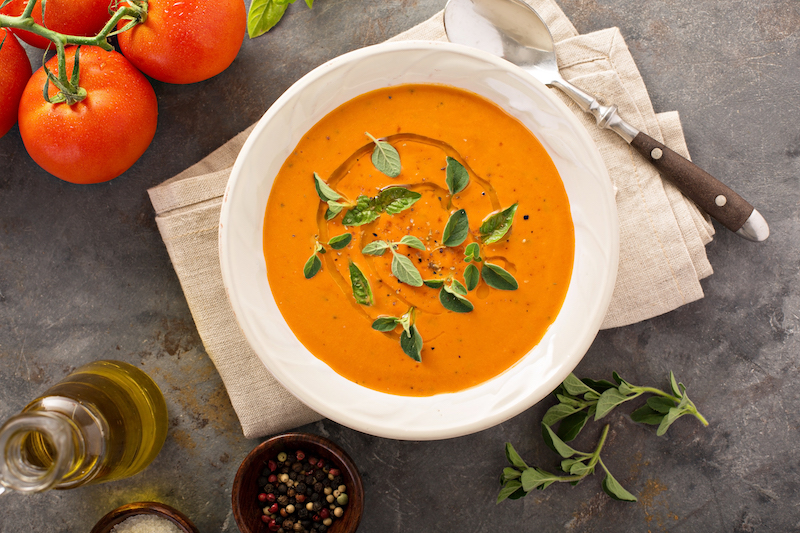 One of my most favorite things to get for lunch is tomato soup. Not like the one you get in a can, but the kind you eat with a hunk of baguette. It's like a big hug in a bowl! This highly-rated recipe requires very few ingredients to achieve a luxurious texture, thanks to the heavy cream. Follow the directions for croutons to really kick it up a notch.
What are some of your favorite dishes to make during the winter months?