I once wrote a paper in college about the movie "Groundhog Day" and Nietzche's doctrine of eternal recurrence: would you choose to live the exact same life, the exact same way on a loop for eternity?
I think of that assignment every year around now. When the days are short and people go back to regular life, I often think, "This again."
The winter slump is real, folks: less light, lower temperatures, and no fun holidays on the horizon till Valentine's Day.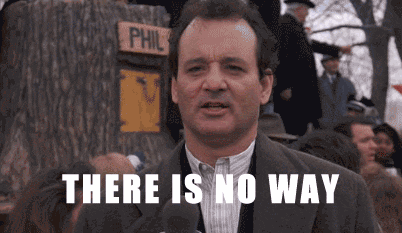 But how does one avoid this dreaded feeling? Here are a few tips I used to avoid the winter slump:
Don't Get in a Winter Slump, Get In the Local Holiday Spirit
Did you know that in many countries the Christmas season extends well into January? A lot of countries actually exchange gifts on Three Kings Day (on or around January 6th) to evoke the gifts that Christians believe the Three Magi brought the infant Jesus.
I think this is a great way to wean yourself off of the American tradition of going back to real life as soon as humanly possible in January.
If you're stationed overseas, find out if your host country has any similar traditions that your family can start! If you're stateside, maybe your region has something fun they do this time of year. For example, in Louisiana, many people leave their Christmas trees up and decorate them with Mardi Gras decor.
Don't feel weird about this: no less a personage than Queen Elizabeth II is reported to keep her Christmas decorations up until February.
That's right, even Her Majesty deals with the winter slump fight. Do you think you're better than the longest-reigning monarch the British Isles has ever had? If you think about it, she's just the other side of the coin of those people on your social media feeds in October with their homes decked out for Christmas with captions like, "#sorrynotsorry."
Even if you're not a Christmas person, there are still plenty of ways you can make winter feel like a party instead of a punishing, chilly slog. Get creative!
The Winter Slump Is No Match For A Killer Playlist
Most songs we consider "Christmas" songs are actually generic winter tunes, which is why I've never understood why the radio stations yank those songs off the air the day after Christmas. It's like they're determined to bring on the winter slump.
Does the core message of "Jingle Bells" stop being relevant after the holidays?
Last time I checked, it's still fun to ride in a one-horse open sleigh in February. I see no reason why it wouldn't be; I've never actually done it at any time of the year. Does "Let It Snow," a celebration of popcorn and making out in front of a fireplace, stop resonating with people after December 25th? I'm writing this on January 11th, watching a beautiful snowfall outside of my kitchen window, listening to Prokofiev's "Sleigh Ride" with my non-Christmas-specific decorations around me and LOVING IT.
Which brings me to my next winter slump-beating idea: haul out that holly, sister!
Decorate!
The majority of "holiday" decorations are simply winter decorations. Keep out (or put up) greenery, snowmen, heck, even lights! My in-laws live in Norway, where people leave up their lights well after Christmas to combat the prolonged darkness. Or, if you celebrate Christmas and your baby Jesuses and Santas make you happy, channel your inner Queen Elizabeth – leave them out! Your winter slump is unique to you, so do what it takes to beat it.
Get Creative With Your Childcare This Year
This last tip is a departure from the other winter-specific ones, but it's definitely kept winter slump at bay for me. Consider starting a babysitter-share co-op. Here's how it works:
Get the squad together

Find a sitter you trust.

Settle on a timeframe (i.e. 8:30am to 11:00am, Monday through Friday).

Appoint a coordinator who puts out the call on Sunday for everyone to say what day they'll need childcare, and for how many kids.

Members pick days to host the kids and sitter at their house.
The sitter shows up at different members' houses on their hosting day; parents drop off their kids with their own snacks and supplies. Depending on the price you negotiate with your sitter, this can be cheaper than hourly care at the Child Development Center.
2020: Make Winter Great Again
These tips are a little different than your standard, beginning-of-the-year advice, and hopefully more fun. This winter, I hope you find yourself feeling like Bill Murray's Phil Connor at the end of "Groundhog Day:" "When Chekhov saw the long winter, he saw a winter bleak and dark and bereft of hope. Yet […] I couldn't imagine a better fate than a long and lustrous winter."
How do you avoid the winter slump? Share your tips with us below!