I know what you're thinking and no, this is not a post about Spider-Man's Thanksgiving (although I did debate spinning a tale about just that – see what I did there?).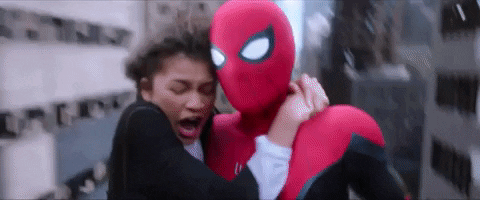 This is about Thanksgiving, one of my favorite holidays, and how to infuse home into it when most of the time we don't have the privilege of being with our extended families.
Thanksgiving is about the food in our house. Don't get me wrong: the after-dinner sports are kind of entertaining, but the food is what brings us together. I haven't had a Thanksgiving with my parents in six years. We have consistently made Thanksgiving a great holiday with friends for our kids and ourselves.
To celebrate what we do have instead of dwelling on what we're missing, here is my Thanksgiving recipe round-up.
All of these recipes are from military spouses, and they are used to remember Thanksgivings past and to keep our hearts close to home. I've tasted almost all of these and can verify that they are delicious. You're welcome.
---
Tamales
Meghan Pesina, Navy Spouse
Tamales are my go-to when I think about Thanksgiving. It takes me back to being home with my family. We would spend hours around a long table laughing, talking, and dancing while we prepared dozens of tamales. I try to keep this tradition alive in my family with my kids since we are so far from home. We invite our military family to come over, lend a hand, and bring a filling of their choice.
Filling:
1 beef roast
2 pork roast
1 onion halved
1 garlic bulb
2-3 bay leaves
Salt to taste
In a large roasting pan, add all ingredients and cover with water. Let slow roast overnight. In the morning, remove meat and shred into a bowl. Strain the broth. Set aside two cups of broth. Add the rest back to the meat.
Corn Husks:
Soak your corn husks in the morning in hot water. I like to let mine soak for an hour before using so they are nice and pliable.
Chile Sauce:
6-8 Guajillo dried chiles
4 New Mexico dried chiles
2 Ancho dried chiles
1 Chile de Arbol- only if you want some spice, as these are hot
Half an onion
4-6 cloves of garlic
½ cup of reserved broth
Clean stem and seeds from chiles and rinse. Add all ingredients to a pot of water and boil about 10 minutes until the chiles are soft. Once done, add to a blender with reserved broth for about 3 minutes. Using a mesh strainer, strain the chile paste. You will add this to your masa.
Masa:
You can buy pre-made masa and add the reserved 1.5 cups of broth and chile paste. Or use a bag of maseca. Follow the directions on the bag and use the chile paste and broth to help flavor the masa.
Assembly:
I like to split my ingredients into 2 bowls and make an assembly line. This is where I invite my favorite people over, and we each take part. Taking one corn husk, spread the masa from side to side. Using the back of a spoon is usually the easiest way. Add some meat to the middle, but not too much or it won't fold properly. You can top it with a green olive if you want. Fold long sides to the middle (they will overlap), then fold the bottom. See the photo for a visual.
---
Chicken and Dressing Recipe
Jennie Taylor, Navy Spouse
Each Thanksgiving, we make chicken and dressing casserole as a family. It reminds my husband of growing up in Tennessee. The boys listen to stories about his childhood and how important food is, bringing families together in the kitchen and at the dinner table.
Ingredients
1 box of jiffy cornbread, cooked and crumbled
1 box of chicken stuffing
1 rotisserie chicken, cooked and chopped or 4 chicken breast, cooked and chopped
1 10.5 oz can of cream of mushroom soup
1/2 tsp. poultry seasoning
4 eggs, boiled and diced
1 small onion, chopped
1 celery stalk, diced
2 cup chicken broth
2 tablespoons melted butter
cracked pepper and salt to taste
Directions
Sauté onions and celery in butter. Combine all ingredients in a bowl and mix together. Place all ingredients in a greased casserole dish. Bake at 350 degrees for 45-55 minutes or until casserole has set.
---
Spinach Casserole
Hannah Green, Navy Spouse
This is my favorite recipe because my cousins, who are like my sisters, always had to split their Thanksgiving between their parents and they always brought this dish to ours. It made me happy because I adored being with them during the holidays.
Ingredients
2 packages of frozen spinach
1 can of artichoke hearts in water, drained and chopped
1 big onion chopped
1 stick of butter
1 cup sour cream
1 cup parmesan cheese
*½ teaspoon salt
Directions
Cook spinach according to the directions on the package and then drain. Saute onion in butter. Mix with all ingredients. Put in a casserole pan and cook for 30-40min at 350F.
*salt optional to taste
---
Sweet Potato Casserole
Michele Faubel, Navy Spouse
This is one of my husband's favorites. His father used this recipe growing up. Thanksgiving is his favorite holiday, so preparing this during these years away from family has made him feel at home.
Ingredients
3 cups sweet potatoes, cooked and mashed
1/2 cup milk
1 cup sugar
1/3 stick of butter
1 teaspoon vanilla
2 eggs
Topping
1 cup brown sugar
1/2 cup of plain flour
1/3 stick of butter (room temperature)
1/2 cup pecans (or nuts of your choice), chopped
Directions
Combine the first 6 ingredients and put into a greased casserole dish. Combine topping ingredients and place on top. Bake at 350F for 30min.
---
Crunch Top Apple Pie
Sarah Lifa, Navy Spouse
I love an apple pie to finish off Thanksgiving dinner because it feels nostalgic to me. It was always my favorite part of our meal because dinner was devoured by my hungry family; during dessert, we would take our time to talk and joke with each other while eating.
Ingredients
3/4 cup sugar
1 tablespoon flour
1 teaspoon cinnamon
dash of salt
3 1/2 cups chopped apples
16 oz applesauce
1 tbsp lemon juice
2 tablespoons butter, chopped into small pieces
crust (I use store-bought crust. No shame Sarah, no shame)
Directions
Preheat oven to 425 °F. Combine sugar, flour, cinnamon, and salt in a bowl. Stir in apples, applesauce, and lemon juice. Spoon mixture into the pie crust, and dot with butter pieces.
Crunch topping
3 tablespoons flour
1 tablespoon sugar
dash of salt
1 tablespoon room temperature butter
Combine flour, sugar, and a dash of salt in a bowl. Using a fork, cut in room temperature butter until mixture is crumbly. Sprinkle over top of filling. Bake for 10 minutes, then reduce heat to 350 °F and continue to bake for about 45 minutes, or until topping are golden brown.
---
Grandma's Pound Cake
by me!
This is my go-to recipe for the holidays. It is the pound cake I learned to make in the kitchen with my grandmother, and I continued making it with my mother when my grandmother passed away. I've already taught it to my daughter! I've seen variations of it. But this recipe is how our family makes it, and it never fails to impress.
Ingredients
1 cup of butter, softened (not melted)
3 cups of sugar
5 large eggs
3 cups of cake flour (or all purpose)
1 teaspoon baking soda
½ teaspoon of salt
8 ounces sour cream
1 teaspoon vanilla extract
½ teaspoon almond extract
Directions
Beat the butter and sugar together until creamy with mixer. Add eggs one at a time and mix by hand just until incorporated.*
Combine flour, baking soda, and salt as a dry mixture. Add dry mixture 1 cup at a time to butter mixture, and mix by hand until incorporated, alternating with 1/3 cup of sour cream each time. Make sure to begin and end with flour. Add in extracts last.
Flour and grease (no baking spray!) a 2 piece, 10-in tube pan. Bake at 350F for 60-80min. Allow to cool completely before removing from pan.
*mixing by hand reduces the risk of overmixing. I mixed the entire thing by hand until I left home*
---
Go ahead and try some new recipes this Thanksgiving! Don't forget about home, if you have strong traditions from family and friends. Incorporate them into your holiday, no matter where you are living.