If you're like my family, the winter months are a time for hibernation and family bonding.
This year we're even more reclusive with a raging flu season, a newborn in the house, and our first winter in six years. Let's just say we're getting our money's worth out of all our streaming subscriptions. Whether you find yourself up all hours with a sick kiddo or stuck inside on a snow day, I have just the thing to help you survive with some family-friendly, yet binge-worthy show suggestions.
Obviously, I do not recommend sitting your kids in front of the TV all day. But sometimes Mama gets the flu, too. Save your sanity while your preschooler just repeatedly yells "next!" as you surf through the endless options on Netflix and try out one of these boredom busters.
Note: it's always recommended to watch with your child as some shows may not be appropriate for younger viewers or align with your parenting mottos.
Amazon Prime offers plenty of kid-friendly shows, many of which originated from books. Whether you're sitting in a doctor's office or hunkered down on your couch, you can access this service from a phone or tablet. Here are a few of my favs:
Twelve-year-old Dorothy Gale (granddaughter of the original Dorothy) and her dog Toto live with her single mother Evelyn in Kansas. They're transported to the modern city of Oz and begin a quest to find Glinda the Good so they can return home. Dorothy and Toto befriend a street-wise witch named West and a not-so-small munchkin named Ojo.
The mystery that unfolds over two seasons, each with 13 episodes, keeps both kids and parents entertained and guessing what will happen next. Dorothy's quest offers lessons about loyalty, peer pressure and perseverance. Some younger children might find the evil magicians a little frightening so be sure to watch with your kiddos.
When "Pete the Cat" came to Amazon Prime, we were all over it. My kids love the books. I love the positive, upbeat vibe Pete and his friends exude as they impart life lessons for the preschooler and early elementary age set. There are two complete seasons totaling 13 episodes PLUS special, holiday-themed episodes with the most recent one debuting February 2020 to celebrate Valentine's Day.
"Pete the Cat" offers both kids and parents a feel-good viewing experience while teaching children about being a good friend, family member, and citizen. Plus, there are some surprising celebrity voiceovers that parents will enjoy recognizing.
Netflix offers a ton of original shows and movies – I almost feel lost while looking for something for my kids to watch. The short episodes of the following shows offer reliably engaging content that can keep my kids entertained when I need 20 minutes or so to make dinner.
This is a recent find in our home, and I must admit that I love it. The show follows five animated characters who live inside a computer. They answer a big question (i.e. "How do cell phones work?") which is posed by a human child. The show shifts back and forth between live-action and animation while the Storybots use teamwork to search for the answer to report back to their Boss.
The show is educational but not overly so. Kids and adults will learn new concepts while laughing out loud. Plus, each episode has a cameo by a famous person! This is especially entertaining for adults who enjoy seeing Jennifer Garner as a cell tower operator or John Legend as the King of Music. Three seasons are currently available.
If you're feeling nostalgic, you might enjoy this updated version of a childhood staple. "The Magic School Bus" aired on PBS in the mid-1990s. Netflix offers two seasons of the latest version which stars SNL's Kate McKinnon as the voice of Ms. Frizzle's younger sister who has inherited the keys to the magic school bus upon her sister's retirement.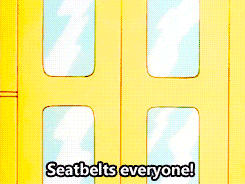 Like the original, the school bus takes the kids on wild field trips to new and exciting places while learning about science and encouraging a healthy curiosity about the world around us. While some argue that the sequel can't live up to its predecessor, it is nonetheless a good way of engaging your child in scientific concepts.
Bonus points: Like "Pete the Cat", this is a great way to get your child reading. If they enjoy the show, they can continue to take magical field trips with the class in the Scholastic book series of the same name.
While Disney+ offers a variety of its classic and newer movies that are appropriate for younger viewers, the original shows seem to be geared to tweens, teens, and adults. Here are a couple suggestions that will appeal to older kiddos and parents alike.
Note: I am not including "The Mandalorian" but if you and your teens have not watched it yet, I definitely recommend doing so. If you're not hooked by the storyline, at least Baby Yoda will tug at your heartstrings.
This show is definitely geared towards a female audience with the first episode covering topics like tampons and "cycle sisters." However, the series sets out to explore the complicated terrain that is middle school through the eyes and diary of 12-year-old Elena.
Elena, a Cuban American girl, aspires to be the President of the United States. As the first episode opens, we know she's fulfilled that dream. She's supported by a strong single mother who is navigating a new relationship after the death of Elena's father. There are other diverse characters offering viewers, who may not identify with the typical tween/teen show, a familiar face with whom to identify. The series offers the usual sixth-grade conundrums while still managing to be entertaining to older kids and parents.
If you live with or are a fan of Forky, you'll enjoy this series of shorts. Each episode is about three minutes in length and explores broad topics like "What is money?" in the lighthearted and cleverly informative way that only Pixar can do.
Forky's quest to answer the big questions finds him seeking help from other familiar characters in Bonnie's playroom. We learn about time from Rex who tries to convey the age of the dinosaurs, and we learn about money from Ham. New characters are also introduced, Forky learns about love from old toddler toys who are skillfully voiced by the likes of famous actors Betty White and Mel Brooks, just to name a few.
While some episodes are more humorous to adults than others, I have enjoyed watching every one of these with my preschooler. We literally laugh out loud while watching Forky basically explore the world as any 4 year old would.
What are some of your family's favorite streaming shows? I'm always up for suggestions!