Can you learn anything about being a good mom from a woman who can't remember her daughter's middle name? Can you learn anything about being a friend from a woman who has lost all her old friends?
I say yes. I can and have learned a lot from Moira.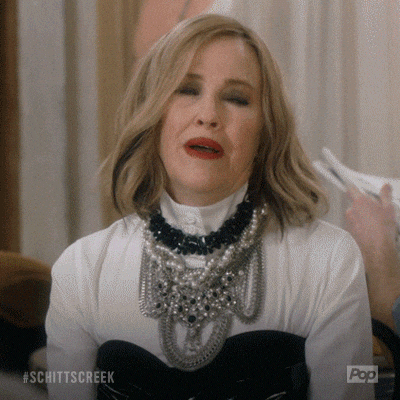 Who is this woman? Moira Rose is the matriarch from the television show Schitt's Creek. I think that what we see initially from her – the elitist, out of touch former actress – is just the tip of the iceberg.
Moira is more relatable than she appears. Her relationship to motherhood is complex; to say she is not a perfect mom is an understatement. But I relate to Moira and think that we can all learn to be a better mom and friend from what she gets right.
Moira never gives up her dreams and continues to aspire to her goals.
Moira was an actress before her family lost their fortune. Her role in "Sunset Bay" is an integral part of her past life, and she carries her sometimes black, blue or blonde head high knowing that she isn't finished with her dreams of stardom.
But she does not give up her career aspirations. Moira gets a lifeline to star in The Crows Have Eyes III- The Crowening, and she continues her dream of being a successful actress. Moira celebrates her career successes (maybe a little too much) and is a proud mother.
Life, motherhood, military, and family situations can cause us to put dreams on hold. From Moira, we can learn to keep our aspirations alive and take the work as it comes – even if it is for Herb Erlingers Winery.
She engages in her community.
Perhaps like you, Moira is at the ultimate disliked duty station and clearly did not get her first choice. Her greatest wish is to be a short-timer and get out of Schitt's Creek. But as she settles in, her involvement in the town council gives her meaning and purpose in her community.
As military spouses, we are temporary players. It can be challenging to find a place in our community. Moira shows us the confidence to be part of her community and to work with difficult people (Hello, Roland!) to make important changes in town.
Moira is her own woman.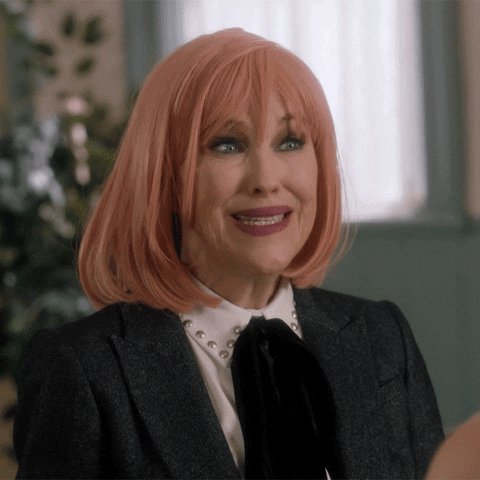 With or without one of her many wigs, she doesn't give in to pressure to be more like people in Schitt's Creek (except for the time she tried to be a down to earth local to buy a used car). Catherine O'Hara, the actress who plays Moira, was asked about her character's clothes and a multitude of wigs. She said in an interview with the LA Times:
'They remind Moira, and the world and this town, who I think I've been and who I intend to be again. I'm not going to lose that.'
Moira has a killer, bold, outrageous fashion sense. She knows her value as a woman has nothing to do with the money her family has, or in this case, doesn't have. Moira remains true to herself, even when her situation has drastically changed. We can all strive to be this way, too.
She roots for those she loves.
When Emir dumps Stevie, Moira says, "I heard there was a loss." As Stevie starts to say she was dumped, Moira emphatically says, "I meant HIS loss, Stevie." It was a perfect thing to hear when someone breaks your heart. Though Stevie is close with Moira's son, Moira connects with her when she really needs someone to remind her of her worth.
We all know how much it means to feel supported, and we all need people in our corner. Be that person for someone. Root for those you love and care about, just like Moira.
Moira reflects on her self and improves.
Due to the family's financial ruin, Moira is forced to grow. She realizes she hasn't always been there for the kids. However, she doesn't beat herself up. She dusts herself off with her former hand model fingers, shakes her wacky wig, and takes the opportunity to reflect and reconsider.
Maybe we have not always been considerate of others. Perhaps we have things we have done or said that we are not proud of. Like Moira, we should reflect but not dwell on our flaws; we should rise and strive to do better.
She makes amends.
Due to scheduling conflicts and communication problems with her daughter, she nearly misses her graduation. Moira makes up for this with a surprise Jazzagals performance at the ceremony, singing"Baby, I'm Yours." Her sweet gesture lights up her daughter's face and makes the night.
In our role as parents, we can get so busy teaching and training our children into the people we hope they'll be that we can forget to apologize and make amends for our mistakes. But Moira doesn't. She keeps trying and connecting with her children and friends in her own quirky way and with all her plucky heart.
'Do you remember what Goldie Hawn told us at the amfAR dinner? 'You are the life you accept for yourself.' Those are Goldie's words. Or something someone said to her. In India. Or perhaps she read it… In any case it has always stayed with me.' – Moira Rose, Schitt's Creek, Season 2
Moira Rose may not have all the answers on motherhood and life, but she does nail it in many areas. I'm a true fan of her and the show, and I will miss both after their series finale this week.
Let's all be a little more like Moira.